Cataract Surgery
Augusta, Georgia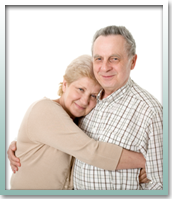 The Academy of Cataract and Laser Surgery in Augusta, Georgia is not only proud to offer state-of-the-art vision correction treatments for virtually all vision problems, we take pride in the fact that we go the extra mile to ensure the comfort of our patients by helping to arrange for their stay in our area while they have their procedure (s) done at our facility.
The term "cataract" refers to the hardening and clouding of the lens as a natural phenomena caused by aging. In the early stages, cataract causes blurry vision, color sensitivity loss, difficulty reading in dimly lighted areas, and sensitivity to oncoming headlights while driving at night.
If cataract is left untreated, it could lead to visual impairment and even blindness. Fortunately today, cataract surgery is one of the most successful eye surgery procedures performed throughout the world. Each year over 2.5 million cataracts are removed.
"No Stitch, No Shot, No Pain, No Bandage"
Augusta cataract surgeon Dr. Bruckner is known for his expertise in treatment of cataract patients with his "No Stitch, No Shot, No Pain, No Bandage" small opening cataract surgery, which offers very rapid visual return. Dr. Bruckner uses state-of-the-art intraocular lens implants for his patients. In appropriate cases, Dr. Bruckner will insert a multifocal implant. A multifocal lens implant may alleviate the need for glasses after the surgery.
Cataract removal is a ten-minute painless surgery and often patients can see without glasses following this procedure*.
Multifocal IOL
Dr. Bruckner has extensive experience with the array multifocal intraocular lens. He has implanted numerous multifocal intraocular lenses in patients during cataract surgery. In the right situation a multifocal IOL may allow the patients to see both near and at distance without glasses.
YAG Laser Treatment
About 20% of patients will develop haze behind the intraocular lens (IOL) implant following cataract surgery. This haze may result in glare, blurred, or hazy vision. This condition is known as posterior capsule opacity and is sometimes referred to as "secondary cataract."
Posterior capsule opacity may be treated with a minor laser procedure known as a YAG laser capsulotomy. Using the YAG laser, Dr. Bruckner removes the hazy capsule behind the IOL lens. This procedure is painless and only takes a few minutes*.
* "Certain patients due to individual circumstances may feel minor pain, may need injectable anesthesia and in complex cases may, of course, require a stitch and take longer than 10 minutes."
Howard,
On July 21st I came to your office regarding the degrading vision due to the cataracts in both eyes. you discussed the ReStor lens with me. I'd been told by several people, that wasn't the way to go. Thank goodness i listened to you. On August 29th I had the first lens placed in the left eye, and now I can see!!! not only is the sky bluer, the tress greener and all of my flowers brighter, I don't have to search the entire house for my glasses to read the paper! The transition was gradual and I really didn't notice how well I was doing until Sunday morning. For years I have not been able to see clearly our choir or our minister from where I sit in church. Sunday morning I noticed the difference. I put my hand over my right eye and i found that our pastor has gotten gray, Debbie had put on a few pounds and Herman needed to shave. I was able to read the hymnal without going through my purse for glasses or borrowing my husband's pair! It was wonderful. During the sermon I put my hand left eye and it was the same ole' same ole'. I did that several times until I saw it was making the pastor uncomfortable. My next surgery is Sept 19th, and I am counting the days. Lots of people here in town are watching to see how I respond to the new lenses (some of them probably wish I'd go blind) as they have vision problems, also. The flip side, I can see how nasty my house is, everything needs a coat of paint and the rug in the living has got to go!!!
Thanks,
Linda
View More Patient Testimonials!
Dr. Bruckner has been a leading cataract surgeon in Georgia for years and has taught state-of-the-art cataract surgery to other ophthalmologists both in the US and throughout the world.
To schedule a CK consultation with Dr. Bruckner, give us a call at (706) 722-9601 or email us.