IntraLase Laser
Augusta, Georgia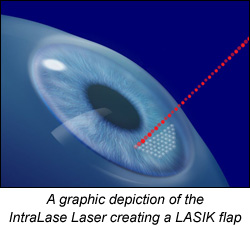 With the IntraLase FS laser (a femtosecond laser system) Augusta Lasik surgeon Dr. Bruckner is able to offer his LASIK patients a safer, computer facilitated alternative to traditional LASIK. With IntraLasik, Dr. Bruckner uses the femtosecond laser system to create the flap without using a blade. The IntraLase FS helps Dr. Bruckner avoid some of the complications experienced by surgeons who use microkeratome blades to create the flap. This laser can also predictably vary the thickness of the flap, allowing for a larger range of treatment. With this revolutionary laser technology, vision correction patients who may not have been considered good candidates for traditional LASIK may be able to experience the life-changing visual results of blade-free LASIK.
"Safety and visual results are the highest priority."
Dr. Howard Bruckner, Director
Academy of Cataract and Laser Surgery
Augusta, Georgia.
To schedule an initial laser eye surgery consultation with Dr. Bruckner, give us a call at
(800) 476-5521 or email us.