Lasik Vision Correction
Augusta, Georgia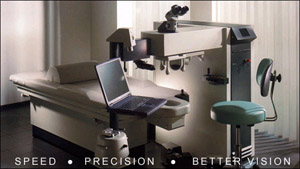 Augusta Lasik surgeon Dr. Bruckner has been certified to perform LASIK laser vision correction since before LASIK was introduced in the US. As LASIK continues to evolve, Dr. Bruckner's practice evolves as well. He now focuses on all-laser LASIK.
Dr. Bruckner uses the latest laser vision correction technology for his LASIK patients including the Allegretto WaveLight Laser and the IntraLase Laser, which together have revolutionized LASIK vision correction for nearsightedness, farsightedness and astigmatism. Dr. Bruckner uses these revolutionary lasers to perform, the Blade-Free (all-laser) LASIK vision correction procedure. The IntraLase allows Dr. Bruckner to create the flap without the use of a blade and the Allegretto WaveLight laser offers the most advanced custom vision correction currently available. Together, Dr. Bruckner offers these technologies in an effort to provide the best possible vision correction with maximum safety and precision.
Augusta Lasik surgeon Dr. Bruckner is one of the most experienced vision correction surgeons in Georgia. He has been performing vision correction surgery since the 1980s and continues to research to ensure that he can offer the latest and best vision correction treatments for his patients.
Dr. Bruckner offers many affordable financing options, like Care Credit, to his patients. To find out more about financing your LASIK, please speak with Dr. Bruckner and his staff during your consultation.
Dear Dr. Bruckner, Ms. Connie, Assistants and Staff,
It is with a grateful heart that I am writing this note. Dr. Bruckner, you and your staff, through your professionalism, have made one of my fondest dreams come true. I've wanted Lasiks for such a long time, but was not a proper candidate. With new technology and your expertise my dream has now become a reality.
Oh sure there was apprehension on my part, but after my consult visit all my fears were laid to rest. With the thorough presentation of the procedure explained and the take-home materials to study I soon felt comfortable about this and my decision was easily made. This was a surgical procedure I wanted to undertake. I wanted to rid myself of wearing eyeglasses. And I was even offered a selection of payment plans. Making the monthly installments are working out well for me and my budget.
Once again let me say "thank you" for drastically changing my life in a most positive way. I am forty eight years old and have often wondered what it would be like to roll over in the bed and see the time on the clock. Let me tell you, it is an awesome feeling! not to mention, i do not look half bad in a pair of cool shades, either.
You can rest assure that if I hear of someone wanting Lasiks, I will surely send them your way.
Mary (Thomson, 48)
View More Patient Testimonials!
"Safety and visual results are the highest priority."
Dr. Howard Bruckner, Director
Academy of Cataract and Laser Surgery
Augusta, Georgia.